There is a big elephant in the physicians room
---
In 2023, we are committing to destroy it and break the cuff it has placed on

physicians

for

WAY TOO LONG.
We are handling this Feb 14,21,28,March 7 @6pm PT
IT IS DEBT.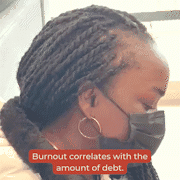 Yup, an average physician has over $200k in debt.

---

Burnout may correlate with the amount of debt.

---

Women physicians are at higher risk of burnout.

---

We are at higher risk for being stuck in shitty jobs, situations etc.
That is ME. YOU. US.
So if we want to ensure we are well, we have to ADDRESS that elephant - debt.
Here is the crap we have been taught. Because you have debt, you should
Work hard like crazy.
Work all the hours you can.
Don't do anything except pay off debt
Hate the debt so much that you can feel it's like a choke hold.
And after hustling like crazy for many years and working too hard for too many hours… you pay it off.
AND THEN YOU CAN FINALLY BREATH.…..
Listen up.
The thing is this, the current way of hating debt, teaching about debt and hustling to the grave is hurting us.
---
AND if I am truly committed to physician wellness, decreasing wealth disparities amongst physicians, AND just being a human that feels the pain and suffering caused by the current state of affairs, then I have to do something about it.
The Debt to Wealth Accelerator
This is NOT another class to come simply learn in.
This is an experience like no other.
It is a transformative experience - if you let it.
Feb 14,21,28,March 7 at 6pm PT
I want to join
In this 4 week (Feb 14,21,28,March 7), you are going to learn things that have the power to change your life forever.
At the end of our time together, if you are not screaming and wondering where the heck, we have been all your adult life and pissed that no one had taught you this LIKE THIS before, we will give you YOUR money back ( plus additional $50 you can spend on dinner while you vent to your best friend).
---
We are that confident in the transformative potential of what we are doing here.
Oh, you get to keep the bonuses too!
Because I want to teach you what has helped transform my own finances.
Why the current state of dest understanding is hurting us as women physicians
---
The societal, familiar factors that have led us to this point
---
How to take your debt from debilitation, overwhelming to organized, clear, and concise.
---
The step-by-step to go from seeing yourself as a worried debtor to someone that builds wealth.
---
How to have a debt annihilation plan that WORKS FOR YOUR LIFE, not again you.
Your Wealthy Badass you system -
$499
value.
It will show you how anyone can go from worried about debt to being a person that can control wealth. This isn't someone we are taught at all in medicine. No wonder we feel unslaved to debt.
Masterclass -
$149 value
How to have money left at the end of the month EVEN before your income increases.
The building abundance -
$399 value
How anyone can create more money to achieve their goals faster
The visual debt to wealth motivation guide -
$99 value
Two important calculators that have helped me pay off commercial debt twice faster than I planned AND how I used to it keep motivated
What others have to say....
Bianca
I had the pleasure of working with Dr. Latifat and she truly opened my eyes to the fact that not all debt is bad. She helped me understand the difference between accumulating liabilities and growing assets that will increase my net worth. Thanks to her guidance, I now feel more confident in making purchases that align with my goals and won't leave me regretting them in six months. Dr. Latifat not only helped me live in the present, but also plan for a financially secure future
Ready to create your own debt liberated life? Click here
Heather
"Dr. Latifat is a true game changer when it comes to understanding the power of debt. I used to carry a lot of shame around my debt, but she helped me see that it can actually be a powerful tool. Her coaching has not only helped me have a better relationship with money but also understand how to make it work for me. Thanks to her guidance, I was able to take a leap of faith and buy a vacation home in my dream destination. It was a scary decision, but one I never would have made without her brilliant coaching. She has truly changed my perspective and given me the confidence to make smart financial decisions. I highly recommend her coaching to anyone looking to improve their relationship with money and make it work for them
Ready to create your own debt liberated life? Click here
Chichi
I never thought I would be in a position to post a testimonial like this, but the feeling of relief and accomplishment is truly indescribable. I am incredibly grateful to MoneyfitMD Latifat Akintade for introducing me to the concept of student loan refinancing during a July 4th barbecue. As a resident, I had always viewed my student loans as a lifelong commitment, but thanks to her guidance and expertise, I am now on the path to financial freedom. I cannot thank MoneyfitMD Latifat Akintade enough for her inspiration and support throughout this process. She truly cares about her clients and goes above and beyond to ensure their success. I am forever grateful for her help and would highly recommend her Coaching to anyone looking to take control of their finances."
Ready to create your own debt liberated life? Click here
This is a 4 part series - $2999 value
Dates: Feb. 14th, 21st, 28th, and March 7th
---
We meet online for 60 minutes for each session.
---
Sessions are recorded and replay available till the end of our time together.
---
Private community for the duration so you can get support within the community - $297 value
---
Bonus checklists and blueprints that will help accelerate your learning and growth - $199 value
---
Singular goal: To teach you how to have true freedom from debt so that you can live life well and practice medicine in a way that is healthy and live your life freely in a way that is purpose and joy driven.
To ensure that we provide the most transformative experience, we will limit the number of seats.
Ready to jump in and give yourself the gift that liberates?
Let me in
FAQ
The Debt to Wealth 4 week accelerator
Is this going to be helpful if I have non-student loans?
What if I cannot attend live?
Are you serious about the refund policy?
How much time should I dedicate?
What if I have additional questions
Meet Your Instructor
I am Dr. Latifat Akintade. I am a Gastroenterologist and money coach for Women Physicians.
I believe every woman physician has the capacity and capabilities to have money. Unfortunately, we have been made to believe we are not good with money. We are taught to save like crazy as if that is the only way to build wealth. We are taught to work hard, grind harder, and avoid debt. It's no wonder we are more likely to burn out and have less wealth.
The good news is we can change that.
My goal is that every woman physician will have money and feel empowered financially, so they can practice medicine and live life on their own terms, irrespective of their specialty or their story.
True wealth, without burnout!
It's a money revolution and you are invited to be a part of it.